Life at Beyond
Whether at home or in the office, you'll find plenty of opportunities to connect with your teammates at Beyond.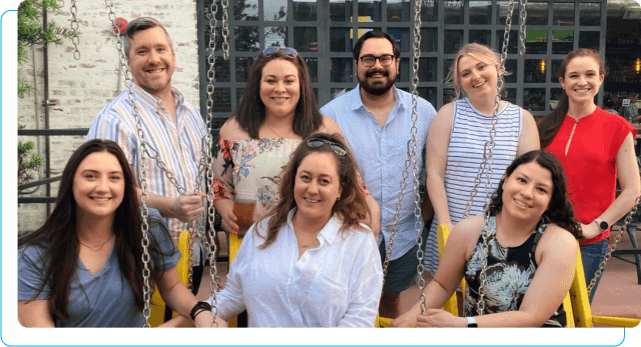 Joining the Team
Our comprehensive Be@Beyond onboarding process is designed to get you up to speed on our industry, help you feel confident in your new role and make sure you feel like part of the team!
You and your fellow new hires will have group sessions each day of your first week to help you understand how your benefits work, set some goals and have a little fun while you're at it! You'll also be matched with a buddy on your team to come to with questions and provide some support while you get acclimated to your new role.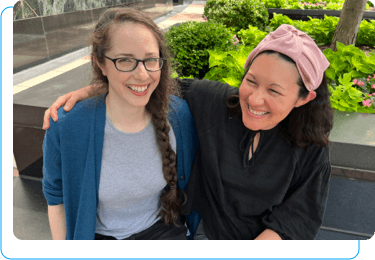 "I have never felt so immediately welcomed to a company like I did at Beyond. Everybody — especially my awesome onboarding buddy, Sarah — was so kind and helpful, and I felt like part of the team pretty much instantly."
—Stella Martin, Marketing
Coming Together, From Home
Although we consider ourselves a remote-first environment, we don't see a need to sacrifice that feeling of community, inclusiveness and belonging. It's all about exploring new ways to engage with each other, even while we're miles apart.
Finding Your Community on Slack
We don't just use Slack for business communications — we've turned it into another way for you to connect. Beyond's channels like #Women+ and #Pride give you a place to belong, while channels like #Foodies, #Sports and #Movies-TV allow you a space to share interests. Or if you just need a midday shot of dopamine, you can turn to #Pets for some much-needed furry friend content.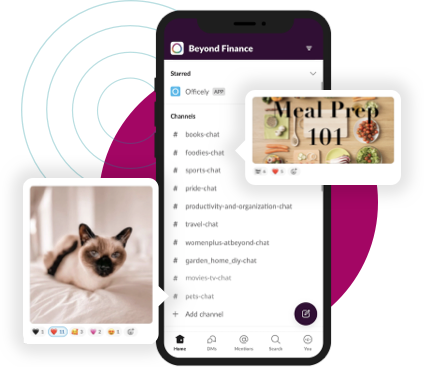 Virtual Social Events
As part of our Be@Beyond employee enrichment initiative, each quarter, we plan a company-wide virtual social event. These can take the form of anything from Game Nights, to happy hours, to desk yoga classes. While Slack is a great way to feel like part of the Beyond community, these events give you a way to put a name to a face and really get to know some of your cross-departmental colleagues.
Connecting Beyond the Screen
While many elect to work from home out of convenience, it can be nice to have access to an office where you can collaborate in person, get away from family-generated noise or simply enjoy a change of scenery!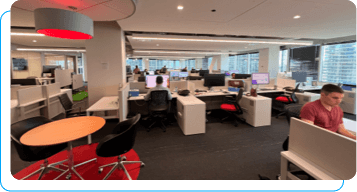 Set-up
Our open concept offices across Chicago, Houston, Irvine, San Diego and Fort Worth have plenty of areas for collaboration, private concentration and all the equipment and hardware you'll ever need!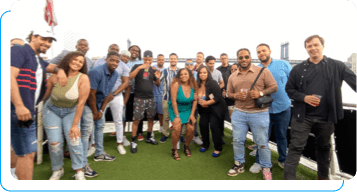 Social
Many of our local teams will pick a day to come in together, and plan happy hours and group lunches around these days. If we know a big group of people will be in our offices, we'll arrange to have lunch catered.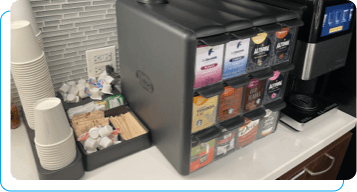 Extras
We always try to keep our offices well-stocked with snacks and beverages (plenty of caffeine of course!), and depending on which location you're at, you may even get access to things like a free fitness center, relaxation lounge or game room.