Mental Health and Money Guide
Recent studies showed that 70% of Americans feel financially stressed, and more than 40% say money negatively affects their mental health. But it doesn't have to be this way. We have helped over 300K people on their path to financial freedom and encourage everyone who works with us to take a holistic approach to mental health and money.
May is Mental Health Awareness Month, and we are taking this opportunity to highlight how money and mental health are intertwined. We've worked closely with financial therapists Dr. Erika Rasure and Nathan Astle on this Mental Health and Money Guide.
A Message From Dr. Erika Rasure, Financial Therapist
"Debt can have a major impact on your mental health. We are here to help make sure that our client's emotional needs are met with the same level of attention and care that we give to resolving their debt."
Financial Wellness and Mental Health Tips and Resources
Select a topic…
Dealing With Financial Stress
Constant worry and financial pressure can lead to physical and mental health issues such as anxiety, depression, and high blood pressure, just to name a few. When you feel overwhelmed by stress, these tools can help you reframe your thoughts and feelings and counteract the harmful effects of financial stress.
10 Exercises from The Financial De-Stress Series
These meditation, mindfulness, and awareness exercises are designed to help you relieve debt-related stress.
Navigating Financial Emergencies
A financial emergency can wreak havoc on more than your bank account. Coping with unexpected financial stress is not easy, but there are things you can do to prepare yourself. Building an emergency fund and following these tips can help you take control of a difficult situation.
Freeing Yourself from Debt-Related Shame
Many people have been taught to view their financial health and credit score as achievements that reflect their character or worth. For example, debt-related shame says, "Because I have debt, I am bad."
This kind of thinking is damaging and harmful to your self-esteem. While it's ok to hold yourself accountable for your choices, you are not your debt or your credit score, and you should never feel shame or undeserving of support, love, or respect because of your debt.
The Cycle of Money Stress and Mental Health Issues
You might be wondering, did my money stress cause my mental health issue, or was it the other way around? According to the Money and Mental Health Policy Institute, poor finances often lead to stress and anxiety that can further impact finances.
Whether the cycle started with a financial difficulty or a mental health problem will vary from person to person. Either way, knowing how this cycle works can help you make sense of the support and lifestyle changes you may need to break it.
Talking About Money with Family and Friends
While it would be convenient to believe that finances and feelings can be kept entirely separate, psychology teaches us that the opposite is true. Money brings up emotions like envy, fear, guilt, and shame. When discussing money or debt with a partner, spouse, family member, or close friend, you may need to address difficult feelings or answer difficult questions.
Although it can be hard to balance practical concerns with the emotions of a close relationship, it is possible. Just remember that honesty ultimately builds trust and respect. Having a plan in place can help you ease into the conversations you need to have.
Setting Financial Boundaries
While you might think that boundaries are meant to keep people apart when it comes to relationships and money, boundaries keep us safe! Boundaries protect relationships from money-related resentment and anger.
Dealing with Financial Bullying and Abuse
Financial bullying and abuse is any unwanted, harmful, or aggressive behavior and usually involves a real or perceived power dynamic. Bullies may try to manipulate you so you make choices that benefit them at the expense of your own well-being.
You can be financially bullied by:
Creditors and debt collectors trying to collect debts
A partner, family member, or friend trying to control your financial behavior
Stopping the Cycle of Emotional Spending
Sometimes, existing mental health concerns can contribute to financial stress. People who struggle with impulse control or use spending as a coping mechanism for emotional stress can make improvements by addressing the root cause of their emotional spending while also putting boundaries in place to avoid spending triggers.
---
Find Your Debt Relief Community
At Beyond Finance, we understand that overcoming debt can be a challenging, isolating, and stressful experience. That's why our program takes a holistic approach. We provide immediate relief by making your monthly payments more manageable and also give you access to support resources throughout the program.
While we are working hard behind the scenes to resolve your debt, you can join our weekly conversation series led by financial wellness experts Dr. Erika Rasure and Nathan Astle.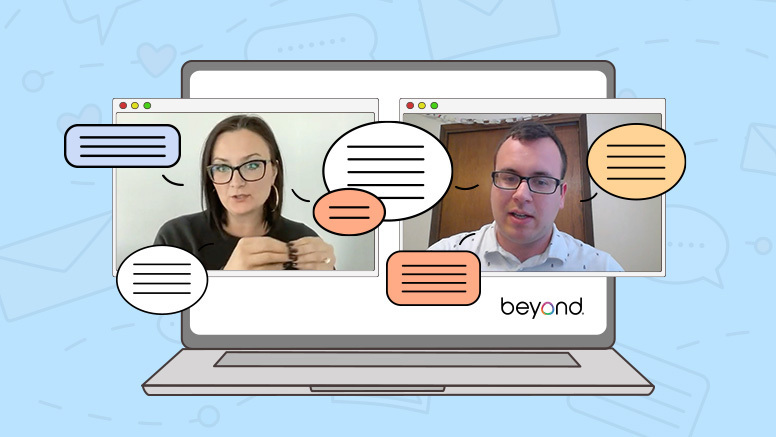 Each session includes:
A short presentation on a relevant topic
A live Q&A session for current clients
Not in Our Program?
If you are struggling with $10,000 or more in unsecured debt, our program might be a good fit for you! To find out, get a free assessment from our partner – it only takes a few minutes!
Words Of Encouragement from Financial Therapist Nathan Astle
"Our mental and financial health are inherently connected. Every choice you make to take care of one positively affects the other. No matter how big or small, every step you take toward mental and financial healing is a step in the right direction."